Sea Pink Cashmere Bed Socks - Limited Edition
Unmatched Luxury
Regular price

Sale price

$52.00
Luxuriously Soft
Warm and Cosy
Stylish
Help with your size

Free Delivery Over £50
Rated 4.9/5.0 By 650+ On TrustPilot
Sustainable Material
Description

These limited edition sea pink cashmere bed socks are a unique pink, reminiscent of the soft hues cast over the shores at sunset on our Western Isles. These incredibly soft, luxurious socks are the tonic to the end of the day (even if it's been wet and windy) when we can cosy up in style.

From the Borders of Scotland to your feet, these socks have been spun with great expertise and care. The soft, free flowing water in Scotland allows our mill to make the softest of cashmere products, untarnished by unnecessary chemicals. The entire process from dyeing, spinning, weaving, knitting and finishing is done in house by master craftsmen.
Material
Care Guide

Machine washable at 20 degrees.
Do not tumble dry.
Size Guide
| | | | |
| --- | --- | --- | --- |
|   | Small | Medium | Large |
| UK Shoe Size | 4 - 7 | 8 - 10 | 11 - 13 |
| European Shoe Size | 36 - 40 | 41 - 46 | 46.5 - 49 |
| US Men's Shoe Size | 4.5 - 7.5 | 8 - 10.5 | 11 - 14 |
| US Women's Shoe Size | 6.5 - 9.5 | 10 - 12.5 | 13 - 14 |
Size Guide
| | | | |
| --- | --- | --- | --- |
|   | Small | Medium | Large |
| UK Shoe Size | 4 - 7 | 8 - 10 | 11 - 13 |
| European Shoe Size | 36 - 40 | 41 - 46 | 46.5 - 49 |
| US Men's Shoe Size | 4.5 - 7.5 | 8 - 10.5 | 11 - 14 |
| US Women's Shoe Size | 6.5 - 9.5 | 10 - 12.5 | 13 - 14 |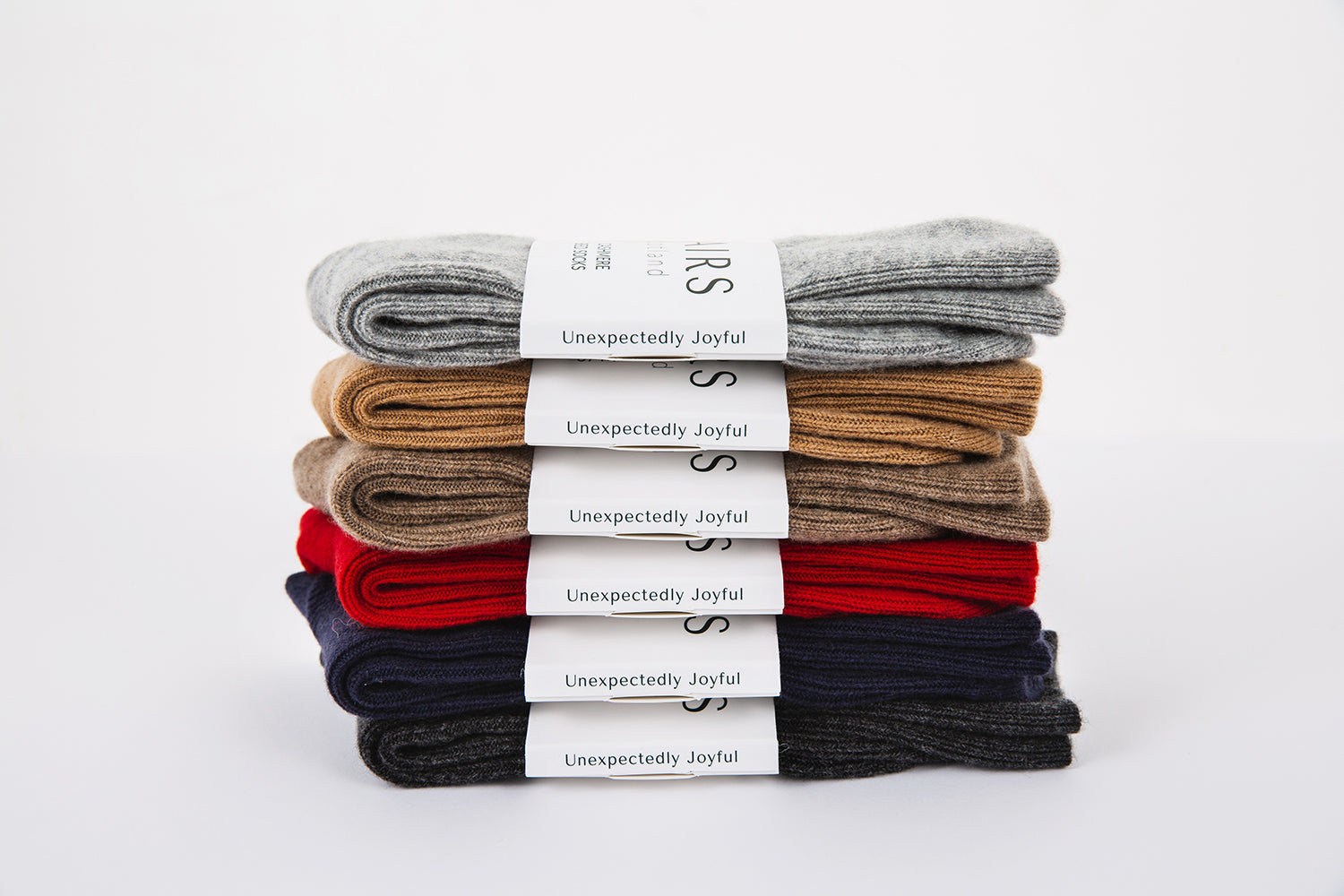 Not Just Elegant and Stylish. Here's why you can elevate your sleep:
Luxuriously Soft:
Cashmere bed socks are incredibly soft and provide a luxurious feel against the skin.
Warm and Cosy:
Cashmere bed socks provide exceptional warmth and cosiness, making them ideal for chilly nights.
Moisture-wicking:
Cashmere has natural moisture-wicking properties, which help to keep feet dry and comfortable.
Insulating:
Cashmere fibers are naturally insulating, which makes them perfect for keeping your feet warm in colder weather.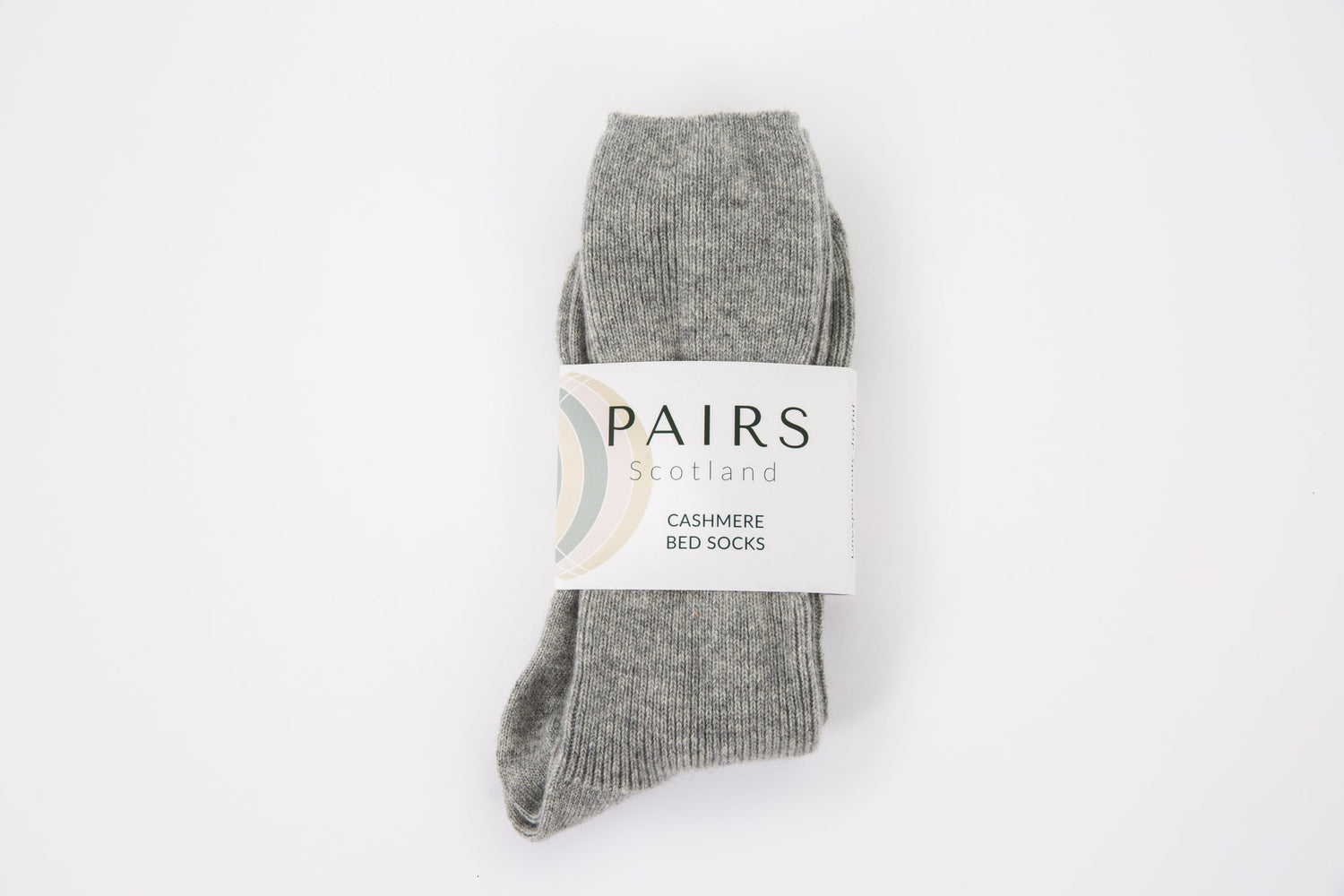 Hypoallergenic:
Cashmere is naturally hypoallergenic, making it a great choice for people with sensitive skin.
Breathable:
The natural fibers of cashmere allow your feet to breathe, preventing moisture buildup and reducing the risk of developing foot odor.
Easy to Care for:
Cashmere bed socks are easy to care for and can be hand-washed or machine-washed on a cool delicate cycle.
Stylish:
Cashmere bed socks come in a range of colors, making them a stylish addition to any sleepwear collection.
Lightweight:
Despite their insulating properties, cashmere bed socks are lightweight and won't weigh you down while you sleep.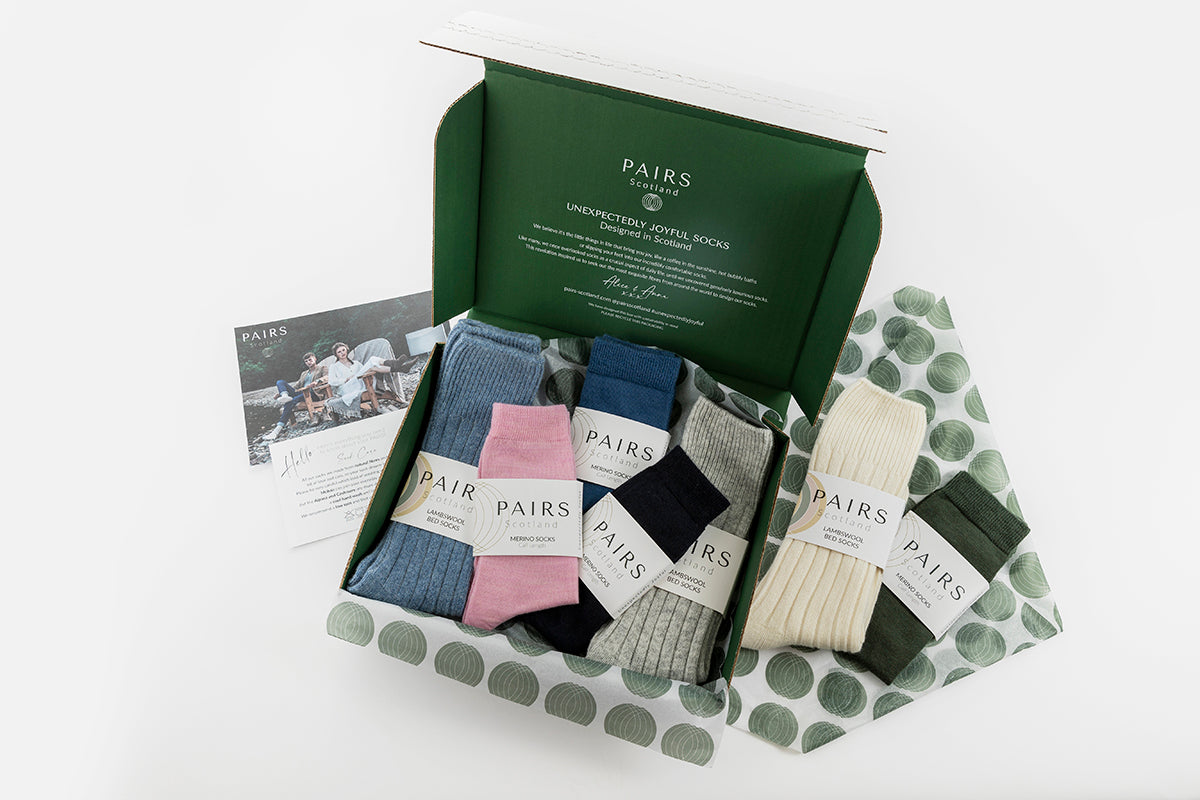 PAIRS Signature Box
All orders are beautifully packaged in our signature box and tissue paper.


All our packaging is recyclable.


Care instructions are included in a separate card to keep safe near your washing machine.


Don't settle for ordinary socks or a mediocre shopping experience, instead join the ranks of our delighted customers and experience the luxury of our socks.
Rated 4.9/5.0 By Happy Customers
FAQs
Why are natural fiber socks more expensive than synthetic options?

Natural fibres such as mohair, alpaca, merino, cashmere and wool are often more expensive to produce than synthetic materials. However, natural fibre socks tend to last longer and provide better comfort and breathability, making them worth the investment.
I have permanently cold feet. Will these help me?

We use natural fibres as the hero yarn in our socks. The properties of which are very clever in regulating the temperature of our feet.
Are natural fibre socks as durable as synthetic options?

While natural fibres may require more delicate care than synthetics, they are often more durable in the long run. Proper care and maintenance can help extend the life of your PAIRS socks.
I hate having hot, clammy feet. Are these for me?

So do we! We want everyone to have comfortable feet and to experience how unexpectedly joyful it is to wear proper socks. All our socks are carefully designed and blended with natural fibres to allow your feet to breathe and regulate their temperature whatever the weather and activity.
Do my PAIRS socks require special care?

Depending on which fibre you have chosen, natural fibre socks may require special care such as hand washing. However, many of our socks can be machine washed and hung to dry.

These cashmere socks need to go into a cool wool wash or be hand washed and then hung to dry. Please do not tumble dry any of our socks!
My socks never last, they always get holey. Are . these socks durable?

Our socks are created with a unique blend of natural fibres and some nylon to create a product that is robust yet very comfortable to wear.
What if I'm allergic to natural fibres?

Our socks are incridbly gentle but if you have an allergy to a specific natural fibre, such as wool, look for socks made from alternative fibre like our bamboo range.
You're out of stock in the socks that I want. Why?

We work with small mills in the UK, Portugal and Turkey to create our collections which are designed here in Scotland. We even source the fibres from their native countries. Sometimes we run of stock and the stars don't align quick enough to get them back online for you. We will always try to keep you informed as much as we can, please use . the notify me button above.
Will natural fibre socks make my feet smell?

PAIRS socks are breathable and moisture-wicking, which can help prevent odor. However, proper care such as washing and airing out can also help keep your socks fresh.
Why do you only have a small range of colours & styles?

We are a small independent company and every year we launch new styles and colours. We are continuing to design new styles and in the meantime we hope that within the bijou collections we have created  you will find something you like. Because once you try our socks it's going to be very difficult to go back to 'normal' socks again! Please get in touch if you have any ideas for new collections or colours. We love to hear from our customers.
Are PAIRS socks comfortable?

These mohair socks tend to be softer and more comfortable than synthetic options, as they are a ribbed loosed top style and are naturally breathable and moisture-wicking, while keeping your feet warm in winter and cool in summer.
Are these socks suitable for active wear?

Yes! Lots of our socks are great for active wear, as they are super robust, such as the mohair yarn is known as the diamond fibre, as well as being breathable and moisture-wicking.

However these cashmere socks are much more delicate and due to their 90% cashmere content ar enot suitable for activewear
I don't want to pay for postage. Can you send these for free?

We actually subsidise the postage cost of our socks and don't pass on the full cost to you. We also beautifully package them in our signature recyclable box with tissue (making it the perfect easy gift or a treat for yourself!) We dispatch them and deliver them within 2 days with our easy trackable service. We hope the cost of shipping is made up for in the unexpectedly joyful experience of unwrapping your gorgeous new socks. It really is all in the detail. 

If you would like free shipping - spend over £40 and your shipping is FREE!
Sea Pink Cashmere Bed Socks - Limited Edition
Regular price

Sale price

$52.00
Luxuriously Soft
Warm and Cosy
Stylish
Size Guide
| | | | |
| --- | --- | --- | --- |
|   | Small | Medium | Large |
| UK Shoe Size | 4 - 7 | 8 - 10 | 11 - 13 |
| European Shoe Size | 36 - 40 | 41 - 46 | 46.5 - 49 |
| US Men's Shoe Size | 4.5 - 7.5 | 8 - 10.5 | 11 - 14 |
| US Women's Shoe Size | 6.5 - 9.5 | 10 - 12.5 | 13 - 14 |